We are used to seeing photographs where dogs take those conventional photo positions such as sitting, standing, walking, running, eating, sleeping, or playing.
However, this article shows 17 dog photographs from a special photo session, where they pose in a very unexpected way.  The special thing about them is that they are especially done in a photo booth style and dogs show their multiple sides of personality through several entertaining pictures.
What it is even more special about these photos is that these amazingly unique and high-quality photos are of the abandoned dogs, held in shelters, made by the photographer Guinnevere Shuster – engaged by the Human Society of Utah – as a form to inspire people for adopting them.
1. Hello Everyone Out There!
I Am A Marvelous 3-Years-Old Pit Bull Terrier Named Rubert, Who Enjoys Photo Shooting A Lot!
2. Meet Me …
The Marvelous Sherlock Mix, A 1-Year-Old Bluetick Coonhound With Dropped Down Ears Who Enjoys Accompany Of Others A Lot!
3. Sup Everybody!
Here I Am, A 13-Year-Old Chihuahua Named Jasmine With A Very Serious Look!
4. What's Up World …
I Am The Fanatical Andie, a 1-Year-Old Boxer Who Loves Making Natural Bubbles!
5. Howdy Everyone!
I Am Max, The 8-Year-Old German Short Hair And I Can Make Funny Faces Just Like That!
6. The Cute Holly
I Am The Cute Holly, A 3-Year-Old Basset Hound With A Wondering Nature!
7.  Labrador
I Am The 6-Year-Old Black Labrador Named Nero And At Times I Can Be Very Enthusiastic!
8. Australian Cattle Dog Mix
I Am The Spectacular 7-Year-Old Australian Cattle Dog Mix, Named Sally, And I Love Wearing Colorful Bandanas!
9. Chocolate Labrador
I Am Wyler and I Want For Everybody To Meet My Adorable Brown Charm Of A 1-Year-Old Chocolate Labrador
10. Chesapeake Bay Terriever
We Are Badger and CJ, A Team of Two 2-Year-Old Chesapeake Bay Retriever's Who Love Having Fun And Playing!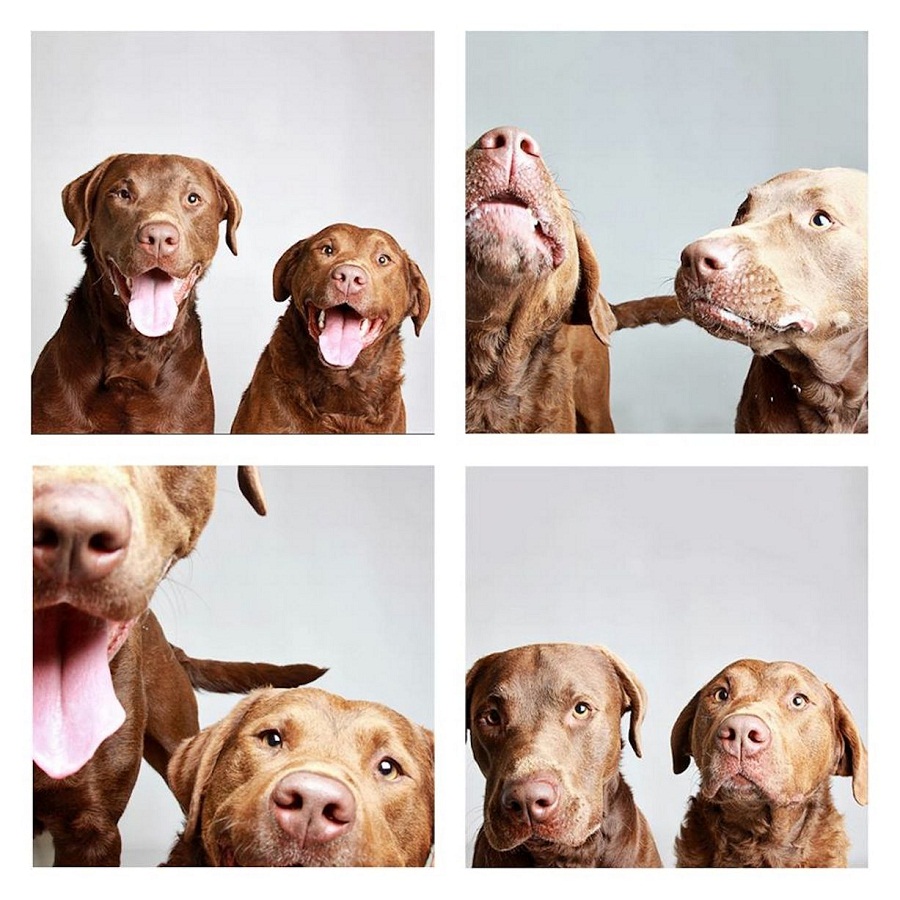 11. Staffordshire Bull Terrier
Roxy Is My Name And I Am An Adorable 1-Year-Old Staffordshire Bull Terrier That Loves Wearing Pinkish Stuff!
12. Pit Bull Terrier Mix
I Am Hercules, The Hyper Energetic 2-Year-Old Pit Bull Terrier Mix!
13. German Shepherd Max
The 1-Year-Old German Shepherd Named Max With A Serious Posture!
14.  Labrador Mix
I Am Russo The Curious 7-Year-Old Labrador Mix
15.  Labrador Blend
Meet Me, Buddy, The Calm 2-Year-Old Labrador Blend!
16. Shepherd Mix
A 2-Year-Old Shepherd Mix named Asia – loyal, warm and ready to please others
17. Pit Bull Goofily
I Am Kita, A 3-Year-Old Pit Bull Goofily Friendly Towards People!
Source: Mirror UK
Image: Guinnevere Shuster