Getting to discover things that your dog love doing is very important. Your dog needs to have the essential level of happiness and physical activity in order not to be prone to destructive actions and of health complications.
There is why we are proposing a list of 20 top fun things to do with your dog, to fight the dullness on your dog and have a lot of enjoying moments together.
1. Offer Your Dog Agility Activities
Agility is a favorite fast-paced dog sport, a good team working activity to enhance bonds between dogs and owner, where the owner has to lead the dog through different obstacles such as tire jumps, teeter-totter, wave poles, pause tables, or standard jumps. This is an excellent opportunity for the dog to be engaged in lots of running and jumping, including fast joints.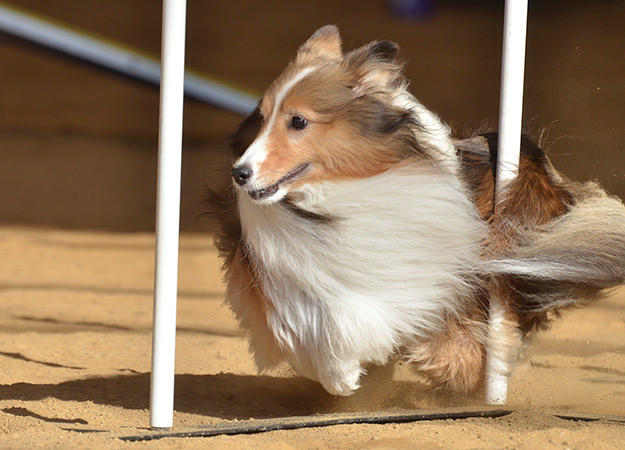 Source 
2. Engage on Voluntary Dog-Assisting Activities
This is another fun and enjoyable activity to engage in with your dog. It is a fun philanthropic activity where the dog's role is to support people with special needs in hospitals and other health-care institutions, libraries, prisons, veterans clubs, and other– during recreational and examination programs. In such cases, let us say, dogs can help prisoners learning empathy and kindness while they are in jail. They can also support obese people lose their mass, or veterans to cope with different psychological disorders, to improve the mood and socialize with children suffering autism, and so on.
3. Occupy your Canine as a Therapy Dog
This is another activity where the dog has to be placed in the role of a therapy animal but in a more intensive way compared to Dog-Assisted Activity. It is a goal-directed therapy where the dog is an integral part of the treatment, used expressly in the recovering process of people with a range of health problems. There are so many benefits that patients can get from a Dog-Assisted Activity such as decrease of worry, pain, and tiredness, as it has proven to bring positive psychological effects, mental stimulation, focus, empathy, and progress, the upsurge of motivation, humor, and socialization level.
4. Hike and Backpack with your Beloved Canine
An outdoor adventure that everyone would love jumping onboard, counting the dog – as they adore enjoying nature marvels. In this activity, the dog is engaged in a week camping, typically in highlands, where the dog accompanies the owner as he hikes and climbs mountains during the day and sleeps over in tents during hours of darkness. Besides other, do not forget to get with you the needed camping and hiking tools of the dog, such as dog pack, dog clothes, food and bowls, dog booties, dog toys, collar and leashes and make sure vet examines the dog and gives the needed vaccines before the trip. This activity serves as an excellent opportunity to get rid of the dog's monotony and unnecessary energy by all the fresh air, amount of exercise and unique sights he gets.
5. Reserve Yourself a Fun Day Trip with Your Canine
Day trips are another excellent way to spend some entertaining time with the dog, especially when you cannot get the time for a more extended vacation, such as camping. There are so dog-friendly environment where you can get yourself and your dog busy and entertained for a day in your local area, such as the beach, dog park, another city, a car ride, a walk, boat lake trip or river trip, and so on. There is a lot of excitement there!
6. Spend a Daytime in a Dog Off-Leash Parks
Another way to enjoy the day with your adored pooch is by sending him in an outdoor dog park or dog off-leash park where they can move and exercise freely with no leash around their neck while playing with other dogs and enjoying the benefits of fresh air. This is one of the best ways to make your dog socialized and get rid of his boredom.
7. Launch a Musical Freestyle Dance with your Canine
Another fun and utterly entertaining activity that you can do as a team with your dog are engaging in a dog musical freestyle dance, where both of you must become dancing partners who have to coordinate each other's moves based on the music's rhythm. It can be considered a dog obedience training exercise, combined with music, as it includes teaching the dog how to follow your lead and your moves complemented by the rhythm of the music. This is an excellent activity for the dog and you to enhance bonds, as well is a great mental and physical activity as the dog releases the additional energy and gets entertained the same time.
8. Do Not Miss A Frisbee Game With Your Pooch
Also known as the disk game, a top-rated game among people is commonly adored also by the canines. The pooches enjoy catching things when somebody throws them, as fetching is a natural thing that dogs enjoy doing it anytime! Use this game to keep your dog's mental and body shape, as well as his energy in the balance as it involves many jumping ups and running to catch the thrown disk before it hits the ground.
9. Enjoy Being Accompanied By the Dog While Rollerblading
This is a pleasurable and engaging outdoor activity where both you and your dog are guaranteed to have many fun moments, meantime physically engaging in a fresh-aired setting. In this activity, the dog's part is to pull you while you have your rollers put on both feet. The dog will benefit from this activity as he will develop muscles from pulling, something that decreases the risk from different dog diseases and behavior problems.
10. Engage Yourself and Your Canine in a Canicross
Everyone would like being part of a Canicross as it means running off-road while being accompanied by the dog, which stays attached with you through a two-meter leash that is tied up with the waistbelt that you wear on your belt. Entirely this is a beautiful activity that helps your dog enhance bonds with you, meantime activating his muscles as he pulls you frontward. This activity supports the dog on fighting the boredom and other dog potential diseases caused by lack of physical activity of the dog.
Read also:
How to Play With a Dog
Everything you will need to know about Hound Dogs